Welcome to the official site of Miss Rodeo South Dakota, Inc.!
Miss Rodeo South Dakota, Inc. is committed to developing leadership and advocacy skills in young women across the great state of South Dakota, partnering with strategic stakeholders, hosting the Miss Rodeo South Dakota pageant, and providing quality representation at Miss Rodeo America.
________________________________________________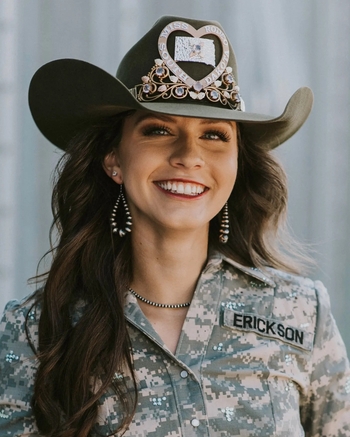 Wishing the best of luck to
Miss Rodeo South Dakota 2023,
Morgan Erickson
at the
Miss Rodeo America Pageant!
Congratulations to
Callie Mueller,
Miss Rodeo
South Dakota
Lady in Waiting!
Congratulations to Alison Zacharias,
Miss Rodeo South Dakota 2023,
Morgan Erickson
Hello everyone, let me introduce myself!
My name is Morgan Erickson and I am so excited to be your new Miss Rodeo South Dakota 2023. I reside in the Black Hills of South Dakota in Hot Springs where I am involved in the school district as a substitute teacher and girls basketball coach. I grew up on the back of a horse, starting to ride around the age of three and began competing in local horse shows when I was 10. From there stemmed a passion for horses through my experiences in 4-H and FFA.
My platform this year is entitled "Seize it" where I hope to encourage everyone I meet this year to go out of their comfort zone and seize the opportunities that come their way! Had I not done just that, I would not be the person I am today.
I am immensely grateful for this opportunity over the next year to travel across the state and beyond serving South Dakota and rodeo! I can't wait to get to know you all throughout my year!
Miss Rodeo South Dakota, Inc. has a membership program! Please, join us to continue improving this already wonderful organization. Go to the following link to start your membership today. If there are any questions, please feel free to call or message the Membership Chair, Sorrel Muscat at 605-515-3022. Thank you for your interest in and support for Miss Rodeo South Dak
ota Inc. Please click the link below: